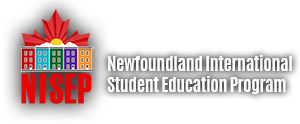 We welcome international students to the quality educational opportunities provided by the Newfoundland International Student Education Program (NISEP) in the Canadian province of Newfoundland and Labrador.
Newfoundland and Labrador are one of the friendliest and safest places in North America. A place where laughter is a recurring theme; a place where its people are recognized for their hospitality, warmth, and love of music and culture. This is where you may look up to examine a high-rise building, pause to smell the roses, all without the shoving and pushing of time-starved city-walkers.
Take a look around. NISEP offers various programs all year round, including fun-filled summer programs! Perhaps you would like to see what past students say about the program? The information is only a click away!

NISEP:
The Newfoundland International Student Education Program (NISEP) 为国际学生提供在加拿大纽芬兰省接受优质教育服务的机会。
NLCC在高中教育上与NISEP深度合作,所有的学生不仅在学校,而且在家都将随时随地受到全方位的沉浸式英语教育。学生们将会和本地的英语母语学生一起被录取到合适的年级和学校。NISEP 的学生们同时可以使用其线上的网校Vital English进行自主英语学习。Vital English 采用高互动性的课程,内容涵盖了真实生活场景中的听、说、读、写,词汇和语法。NISEP目前开设的主要项目有:沉浸式英语教育,英语夏令营,寄宿家庭,在线申请。
纽芬兰当地的高中教育资源
Private Schools

Immaculate Heart of Mary (Corner Brook)

Public School
Metro Area High Schools

Gonzaga High School

Holy Heart High School

Holy Spirit High School

Holy Trinity High School, etc

Metro Area Junior High Schools

Beaconsfield Junior High School

Brother Rice Junior High School

Frank Roberts Junior High School

Leary's Brook Junior High School, etc

Eastern Region High Schools

Ascension Collegiate

Baccalieu Collegiate

Carbonear Collegiate

Clarenville High School, etc

Eastern Region Junior High Schools

Amalgamated Academy

Carbonear Academy

Clarenville Middle School

Persalvic Elementary

Central Region High Schools

Exploits Valley High

Leo Burke Academy

Gander Collegiate

Lewisporte Collegiate

Central Region Junior High Schools

Exploits Valley Intermediate

Lewisporte Intermediate

St. Paul's Intermediate

Western Region High Schools

Corner Brook Regional High

Elwood Regional High

Pasadena Academy

Stephenville High

Western Region Junior High Schools

Corner Brook Intermediate

Stephenville Middle School

Xavier Junior High